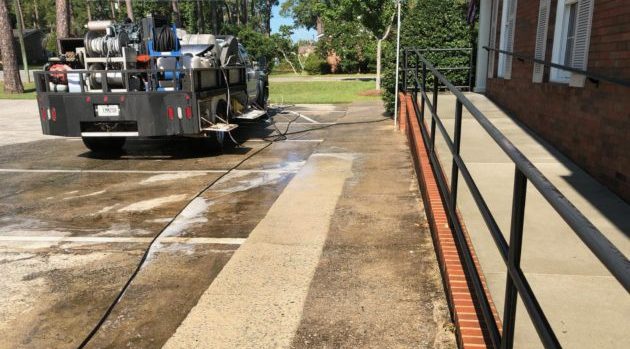 Property maintenance. After a long day serving customers, and an even longer night preparing to do it all over again the next day, property maintenance is often something that business owners here in Statesboro GA have a hard time fitting into their daily routine. After all, there are only 24 hours in a day. The problem is that without regularly scheduled maintenance and cleaning, the concrete surfaces around your business start looking below-average…or worse. Dirty concrete areas have a negative impact on the mindset of customers, it can take a space that should be bright and welcoming and transform it into an area that customers may not feel as safe in. Because of the large impact that curb appeal and clean concrete can make n your customers, concrete cleaning is more than just a priority, it's an absolute necessity! Fortunately, you don't have to look far to find quality commercial concrete cleaning service. At Reflections Property Works our goal is simple, to deliver amazing results, using state of the art technology, and provide the best service possible. It's the reason why so many business owners in Statesboro turn to us!
Specialized Concrete Cleaning Service For Your Business
At Reflections Property Works we specialize in high volume commercial concrete cleaning. We have cleaned everything from local gas stations, country clubs, and even football stadiums. The secret to our success is that we build every concrete solution around the needs of our clients and their property. When you choose Reflections Property Works for your commercial concrete cleaning you can expect:
High caliber quality –
Investing in top grade, high-capacity professional pressure washing equipment is a critical component of our business model. Our clients deserve the best – and we make sure we have the equipment to get the job done.
Guaranteed safety –
Dirty concrete is slippery and can be one of the biggest risks for slip and fall accidents. We use special cleaning products that break down any hazardous buildup, so your property can minimize risk.
Convenience –
We know your day is busy, so don't stress over where to fit in a concrete cleaning project into your busy day! Our team will arrive at a time that makes sense for your business to minimize disruption.
Efficiency –
Concrete cleaning is what we do. We know how to deliver pressure washing service efficiently and effectively – and we know how deliver a top quality result every single time.

Your One Stop Pressure Washing Team

Managing a business can be a complex endeavor, but getting top-notch pressure washing solutions shouldn't be. At Reflections Property Works our commercial pressure washing services will always help your property exude curb appeal and be a positive influence on your business reputation and with the convenience of our flexible scheduling you don't have to worry about our service interrupting your customers.

So don't let dirty concrete greet your customers, improve the curb appeal and ambiance of your property today with our commercial concrete cleaning and pressure washing service today!

GET A FREE ESTIMATE NOW!