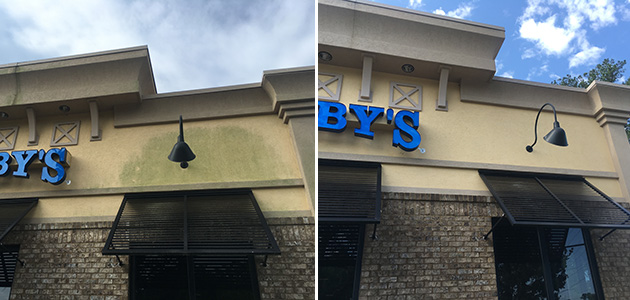 Curb appeal. We have all heard of it in relation to our homes. How a home looks from the street (or the first impression it gives) can go a long way towards determining its value. The same is true of your commercial property. Potential customers tend to judge the value and success of a company, of your company, from the appearance of the property it sits on. Just like a home, the exterior of your commercial property is subject to the same elements that assault residential properties here in Statesboro, GA. Rain, dirt, animal droppings, debris, and heavy traffic will diminish the bright and clean appearance of even newly laid concrete. That is why so many business owners in and around Statesboro turn to the curb appeal and pressure washing experts at Reflections Property Works. We offer a full suite of commercial pressure washing services for your property.
Concrete Cleaning
A commercial property leans heavily on its concrete surfaces. These areas are integral to your space, and when they are dark, dingy, or covered in chewing gum it is like framing your entire commercial property in dirt! Our commercial concrete cleaning service ensures that your concrete areas lift up your curb appeal and reputation. Our pressure washing solutions can be applied to virtually any concrete surface or hardscape. This includes:
Sidewalk cleaning
Parking lot cleaning
Drive thru cleaning
Driveways
Entryways
and more!
Roof Cleaning
Your commercial property's maintenance needs start at the very top! At Reflections Property Works, our commercial roof cleaning service ensures that mold, algae, bacteria, and other pollutants don't wear down your roof. Whether you have a traditional shingle roof or TPO roofing we deliver a roof washing service that eliminates even the most stubborn buildup or discoloration. Regular cleanings don't just improve curb appeal: They can also extend your roof's longevity for years!
Window Cleaning
Improve ambience. Check. Lower energy costs. Check. Creating a picture perfect first impression for your business. Check! With our commercial window cleaning service, we help your window panes last longer and give your whole property a boost! We use powerful cleansers to remove debris and dirt from your windows and always dry to a streak-free shine! We'll also wash down the track, grids, and frame. Whether you manage an intimate restaurant or a sprawling office building, windows are an effective way to increase your business's ambiance inside and out.
Your One Stop Pressure Washing Team
Managing a business can be a complex endeavor, but getting top-notch pressure washing solutions shouldn't be. At Reflections Property Works our commercial pressure washing services will always help your property exude curb appeal and be a positive influence on your business reputation!

GET A FREE ESTIMATE NOW!