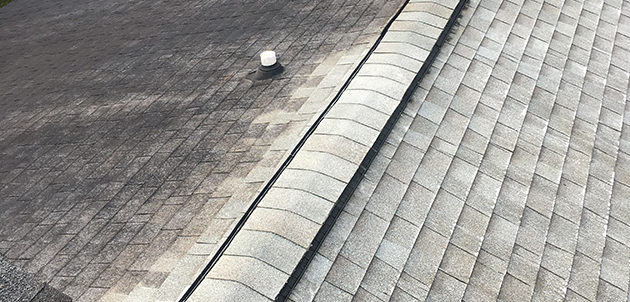 They usually start small, maybe at the apex of your roof. Small, barely noticeable black patches on your shingles. Then as these warm summer weeks go by, what was once a patch starts to elongate and before you know it, long streaks seem to be branching out all over your roof. What you may have once dismissed as mere dirt, seems to be swallowing your roof, and the curb appeal of your home, whole! The scary thing is, your not entirely wrong! Unfortunately those black streaks on the roof of your home here in Richmond Hill, GA are not just dirt that will wash away with the rain. What you are looking at is the beginning stages of an invasion by an aggressive bacteria called Gloeocapsa Magma and if left untreated this invasion will only get worse, potentially having dire consequences for your shingles and your wallet! But at Reflections Property Works we can help you ward off this invasion by completely, and safely, removing black streaks from your roof with our soft wash roof cleaning service.
It's About More Than Just Appearances
If left unchecked, the bacteria you see as black streaks on your roof will cause a big problem for you as it actually eats the filler material (typically limestone) that is present in modern shingles. This will eventually cause shingle warping and brittleness, as well as holes and fissures to open up. Leading to costly roof repairs or replacements. So it is important to have roof cleaning service performed as soon as you see these streaks appear. But, with roof cleaning technique matters. Simply going up to your roof with a pressure washing machine will not only fail to remove all the bacteria, the high water pressure WILL cause damage to your shingles and roof structure.
Better For Your Roof & Curb Appeal
At Reflections Property Works we employ a specialized roof cleaning technique called soft wash roof cleaning. Our process leverages the cleaning power of specially formulated, environmentally friendly solutions to kill 100% of the bacteria that cause black streaks. Our roof cleaning technicians then use a low pressure water rinse to remove the solution, dirt, debris, and anything else plaguing the curb appeal and quality of your roof without any risk to your shingles. With our time-tested technique, all you'll be left with shingles that have been restored back to the original condition! Our soft wash roof cleaning service:
Safely Cleans Your Roof
Removes bacteria, mold, algae, leaves, dirt and debris
Will help your roof look better and last longer!
Reflections Property Works is proud to offer an affordable and effective roof cleaning service to the residents of Richmond Hill, GA. With our soft wash roof cleaning service, your roof will look great and last for years and years!
With Reflections Property Works you are getting a partner that takes pride in delivering top quality service to all of our customers. We don't deem any job complete until our rigorous standards have been met get your free quote today!

GET A FREE ESTIMATE NOW!