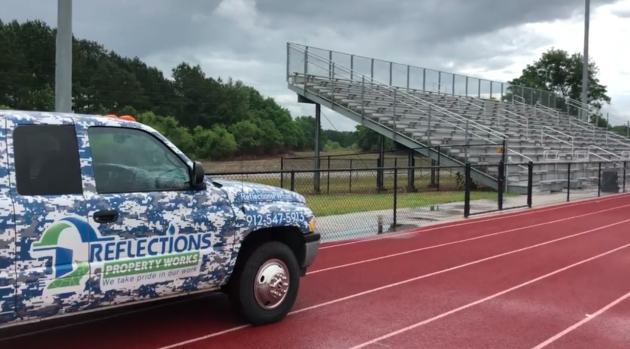 It is hard to believe that it is almost that time of year again. While the football crowds haven't started to arrive just yet. High schools and colleges all around Statesboro GA and the Coastal Empire are already gearing up for the upcoming football season. Step one in preparing your stadium for the crowds and the gridiron battles ahead is to make sure it looks its best. When the first whistle is blown this season you want your stadium to be a clean reflection of the pride and spirit that family and fans have in your team, not subtract from it. At Reflections Property Works we know that a clean stadium enhances the game experience for everyone, players and fans alike. That is why we bring only the highest levels of experience, equipment, and staff to tackle your stadium pressure cleaning project, from high school to college stadiums no job is too big for us!
Complete Pressure Washing Service
As the saying goes, you only get one chance to make a first impression: and the condition of your stadium will be making that impression for your school during the season. So it's important to make sure that your stadiums are free of gum, food and beverage spills, bird and animal droppings, and other contaminants and debris. Our stadium cleaning service ensures that your stadium will make a positive first impression to all visitors by making sure that every aspect of your stadium is clean including:
Parking Lots
External sidewalks
Walkways & Concession Areas
Concrete Steps
Aluminum Bleachers
And more..
Customized Service For Your Stadium
With almost a decade of experience pressure washing stadiums all over Statesboro and the Coastal Empire area, we have learned that no two stadiums are the same. Thus our service is always customized to your stadium and its needs. Whether you have a 20,000 seat college stadium or a 2,000 seat high school stadium, our customized service means that you can always count on us to:
Remove grease, oil, and other debris
Eliminate the appearance of stains
Remove chewing gum
Work a schedule built around your timeline
Perform one-time, monthly, quarterly, or annual service
Use state of the art pressure washing technology
Be trained, qualified, and professional technicians
Coastal Empire's Local Stadium Cleaning Specialist
We know there are many steps to accomplish in preparation for the upcoming football season but thanks to our stadium cleaning service, making sure that your stadium looks great is easy! With Reflections Property Works you are getting a partner that takes pride in delivering top quality service to all of our customers so you know that you can always expect the best. We don't deem any job complete until our rigorous standards have been met, and we achieve this through a reliable, efficient, and affordable process. Make sure that your stadium is ready this gametime this season with the amazing results that can only come from Reflections Property Works!

GET A FREE ESTIMATE NOW!