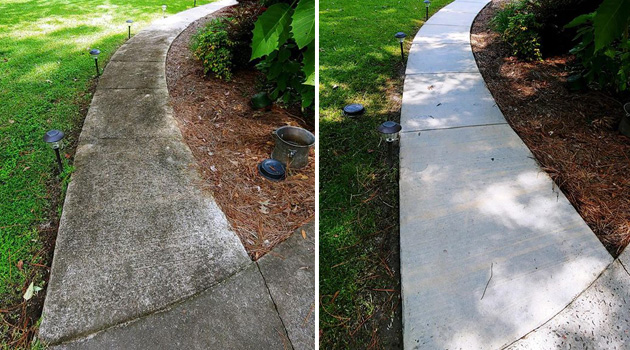 Every year American's spend billions upon billions of dollars on remodeling projects for their homes and homeowners here in Statesboro, GA are no different. The goal of many of these projects is simple: to make your home look better, to improve its curb appeal. When a home looks great from the curb it has a higher resale value, but what's more, when your home looks great you feel a certain amount of pride in owning that home. Because the exterior surfaces around your home are constantly exposed to traffic and elements that degrade their appearance, dirt, grime, mold, and mildew can present significant challenges to your curb appeal. But there is a cost-effective and simple way to dramatically improve the look of your driveway's, sidewalks, patios, and hardscapes. Professional pressure washing service from Reflections Property Works is a great way to give your home a facelift while saving you time, effort, and money along the way!
The Challenge To Your Curb Appeal
High traffic areas such as your driveway, pool deck, or patio develop a worn out or dirty appearance rapidly. Each car that drives on your driveway or every footstep on your patio delivers dirt, algae, and mold spores and other organics that find a safe growing space on the surface of your concrete. In no time, concrete that was once bright white becomes dark and dirty, significantly decreasing the overall curb appeal of your home.
How Pressure Washing Improves Curb Appeal
Using the most advanced pressure washing technology in Statesboro our detailed-oriented technicians strip away layers of built-up dirt and grime, while simultaneously killing mold and mildew. In a fraction of the time that it might take you to pressure wash just your driveway, our efficient pressure washing team can clean all the concrete surfaces around your entire home, restoring them to a sparkling clean appearance. Because our professional grade equipment delivers a deep clean that simply cannot be replicated by retail store pressure washing units, you can expect that clean appearance to last much longer, requiring fewer cleanings, saving you money!
We Provide These Residential Pressure Washing Services to Statesboro and The Entire Coastal Empire:

Driveway Cleaning
Sidewalk Cleaning
Paver Cleaning
Patio Cleaning
Pool Deck Cleaning
Fence Cleaning
And More…
Statesboro's Pressure Washing Experts
Dirty concrete is inevitable, but it doesn't have to mean the end of your curb appeal or a massive outlay of cash! For almost a decade it has been our pleasure to undo the restore the curb appeal of homes throughout Statesboro, GA by providing the best pressure washing and concrete cleaning services!
After our pressure washing technicians are finished your entire property will look and feel brand new! With an amazing crew of experienced staff that is dedicated to your satisfaction you can expect quality and long-lasting results that create a positive first impression of your home now and into the future!

GET A FREE ESTIMATE NOW!