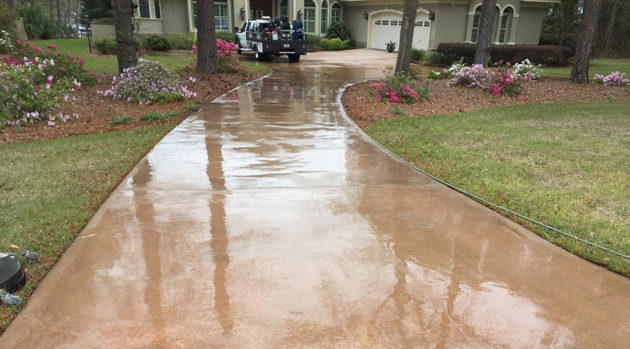 You can probably already list a few basic benefits of hiring commercial or residential concrete cleaners to restore the appearance of your property's hardscapes. Quite simply, you're more likely to be proud of the way your business or home looks when your hardscapes are free of dirt and other debris.
However, there are many more reasons to schedule this service that you may not have considered. If you own a home or commercial property in the Statesboro, GA area, or anywhere within the Coastal Empire, our crews at Reflections Property Works are available to clean your hardscapes thoroughly. Doing so yields the following major benefits:
Making Money
If you're a business owner, you know it's important to maximize your property's curb appeal. This isn't mere speculation. Psychological researchers have pointed out that humans are simply naturally attracted to properties that look clean and inviting.
That means keeping your hardscapes clean boosts your odds of attracting customers to your business. It also helps you make the right impression. If your hardscapes are dirty, you're essentially presenting yourself to the world in an unprofessional manner. It's the commercial property equivalent of someone arriving at a job interview in dirty clothes. On the other hand, if your hardscapes are clean, you'll be indicating to passersby that you run a quality operation. This boosts your odds of making more money.
You don't need to own a business to enjoy such benefits. If you're planning on selling your home this spring or summer, you'll want to make sure it looks as attractive as possible when potential buyers visit. Optimizing your curb appeal now will help you get a better offer later.
Staying Safe
Grass and weeds can begin to grow near and through hardscapes that have not been cleaned regularly and thoroughly. This doesn't just impact your property's appearance. It can also put you (and any visitors) at risk of injury.
When grass, weeds, and similar organic matter become wet, they become slippery. That means people walking on hardscapes that have not been kept clean are more vulnerable to slips and falls. If someone is injured on your property because you didn't practice basic upkeep, you may have a lawsuit on your hands. Even if you're the one who gets injured, and not a guest, you'll still need to pay your medical bills.
That's a major reason to hire commercial and residential concrete cleaning experts to remove debris from your hardscapes. If you go the DIY route, you may not clean them thoroughly enough to remove all organic matter, allowing it to grow back seemingly right before your eyes! That's not going to be a problem when you hire our professional concrete cleaning team. We use high-quality industrial grade equipment and time-tested techniques to clean every square inch of your property. Additionally, cleaning hardscapes to remove organic matter can also have the effect of removing allergens that may otherwise cause health problems.
Staying Happy & Healthy
Again, psychological researchers can help us better understand why it's important to maintain a clean property. They've learned that human beings are typically happier in clean, organized places. Dirty properties, on the other hand, are more likely to cause us stress.
It's easy to understand why this is important to remember if you own a home. Your home should be a place of comfort. If your driveway, patio, or sidewalks are dirty, you'll struggle to be fully content when relaxing outdoors. Having them professional pressure washed will guard against this effect.
This may be even more important for business owners. After all, you want to make sure customers associate your property with pleasant feelings. They may be less likely to visit again if the appearances of your hardscapes made them feel uncomfortable, even in the slightest. Don't take chances with your reputation or the comfort of your customers; hire the concrete cleaning professionals at Reflections Property Works to clean them regularly.
If you're in need of commercial or residential concrete cleaning service in the Statesboro, GA area, we at Reflections Property Works can help. We provide total property care with services such as concrete cleaning, soft wash roof cleaning, and house washing. For more information, get a free quote for your project today!

GET A FREE ESTIMATE NOW!